REGISTRATIONS OPEN
Registrations for IberCup Barcelona 2020 are open!

Join your team and come to the city of Estoril to play with teams from 5 continents in this World Youth Cup.

The proximity to the sea area allows everyone to enjoy the beautiful beaches along the Lisbon coast.
Register Now
90 COUNTRIES SINCE THE 1ST EDITION!

Since the first edition, 90 countries have already been represented in our tournaments.

Every year about 50.000 players participate in IberCup tournaments for a week of competition and fantastic experiences.

CLICK HERE
CHAMPIONS IBERCUP BARCELONA 2019
Vga Saint Maur 2 - 3 Real SC
Arucas Fusion 3 - 4 NF Academy A
Legends 5 - 6 Újbuda FC Budapest
Oakridges Knights 0-2 LaLiga Academy
Újbuda FC Budapest 2 - 3 NF Academy
UA Dinamo Kharkiv 4-0 UD Alta de Lisboa A
FR Es Du 16eme 0-7 Comt Coaching Club
CHECK THE CHAMPIONS
SUMMER TOURNAMENT
The proximity to the sea area allows everyone to enjoy the beautiful beaches all along the Costa Barcelona Coast.

The amazing weather at this time of the year makes the IberCup much more than a football tournament...
See Here
WE WOULD LIKE TO THANK ALL PLAYERS, REFEREES, PARENTS AND COACHES! SEE YOU IN 2020!
Previous
Next
IberCup is one of the largest and most international youth soccer tournaments in the world. Participate in this World Cup and play with teams from all over the world.
Register Now!
BENEFITS FOR PARTICIPATING IN IBERCUP TOURNAMENTS
Awards

Gather your team, participate in IberCup and win the chance to take your team to circuit tournament for free.
Rankings

Teams, players and coaches have the opportunity to enter the IberCup Ranking! Improve your position and win fantastic prizes!
Plan your Trip

Make the reservation of family members through our website and enjoy special discounts.
Internacional Exposure

Face teams from five continents and show your talent to the world.
Worldwide Tournaments

Play against the best Football Academy Clubs in different locations in the world.
Ibercup App
With our app you can find tournament information, game schedule, latest news and more.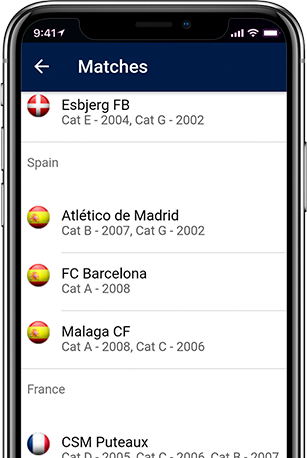 IberCup Social Network App
Get Social with our social network! Share your best moments with the IberCup community.